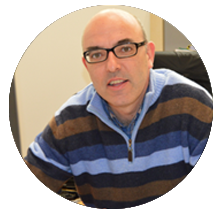 Isidro A. Carrascal
Research professor. LADICIM Technical Director, Railroad Coordinator
---
Isidro A. Carrascal Vaquero is an Industrial Engineer in the specialty of Mechanics and Materials by the UC (1996), Industrial Technical Engineer in the specialty of Mechanics, Structures and Industrial Installations by the University of León (1992), where he won the End of Career and Doctor for UC (2006). As a researcher he has participated in numerous competitive projects at regional, national and European level. He is currently a Contracted Professor of the UC and holds the position of Deputy Technical Director of the LADICIM (Laboratory of the Division of Materials Science and Engineering of the UC). Since 2007 he is a member of the Technical Committee CTC / 033 of AENOR (Covering and closing devices for traffic areas used by pedestrians and vehicles).
---
LINES OF INVESTIGATION
Polymers and Compound Polymers
Railway System Mechanical Behavior
Mechanical behavior of biological materials
SELECTED PUBLICATIONS
I. Carrascal, J.A: Casado, S. Diego, J.A. Polanco y Gutiérrez-Solana-Salcedo. FATIGUE DAMAGE ANALYSIS BASED ON ENERGY PARAMETERS IN REINFORCED POLYAMIDE. Fatigue & Fracture of Engineering Materials & Structures, 35, Pgs. 683-691. 2012.
J. A. Casado, S. Diego, D. Ferreño, E. Ruiz, I. Carrascal, D. Méndez, J.M. Revuelta, A. Pontón, J.M. Icardo, and F. Gutiérrez-Solana. DETERMINATION OF THE MECHANICAL PROPERTIES OF NORMAL AND CALCIFIED HUMAN MITRAL CHORDAE TENDINEAE. Journal of the Mechanical Behavior of Biomedical Materials, 13, Pgs 1-13. 2012.
D. Ferreño, I. Carrascal, E. Ruiz, J. A. Casado. CHARACTERISATION BY MEANS OF A FINITE ELEMENT MODEL OF THE INFLUENCE OF HUMID ITY ON THE MECHANICAL AND FRACTURE PROPERTIES OF THE POLYAMIDE 6 REINFORCED WITH SHORT GLASS FIBRE. Polymer Testing, Vol. 30. Pgs 420-428. 2011
I. Carrascal, J.A. Casado, J.A. Polanco and F. Gutiérrez-Solana. DYNAMIC BEHAVIOUR OF RAILWAY FASTENING SETTING PADS. Engeneering failure Analysys. Vol. 143. Pgs 364-373. 2007
I. Carrascal, J.A. Casado, J.A. Polanco and F. Gutiérrez-Solana. Absorption and diffusion of humidity in fiber-glass reinforced polyamide. Polymer Composites. Pgs, 580-586. 2005
CONTACT
Isidro A. Carrascal Vaquero
UNIVERSIDAD DE CANTABRIA
Laboratorio de la División de Ciencia e Ingeniería de los Materiales
E.T.S. de Ingenieros de Caminos, Canales y Puertos.
Avda. de los Castros, s/n
39005 Santander – Cantabria – ESPAÑA
Telf.: +34 942 20 18 28 / 620 60 72 56
Fax: +34 942 20 18 18
eMail: isidro.carrascal@unican.es